So the Right Arm of God is gone. Like the last greatest Sox pitcher of all-time, on December 13, Pedro
took the money
(locked up by a guaranteed 4th year) and will be pitching out the twilight of his career with the Mets.
It's a shrewd business decision by Theo; a frail, high maintenance pitcher who'll give you maybe 180 IP and a 3.50 ERA isn't worth $50 million over 4 years. The Sox will now have better uses for that money, like divvying it up between Renteria and possibly AJ Burnett or Tim Hudson, much younger arms.
Hardheaded though I may sound, what I really wanted was Pedro to take the Sox's 3 year offer and remained in Boston the rest of his career. The guy gave his best years to the Sox, and his best years were better than anyone else's in the history of baseball. Really. Pedro's 1999-2000 were the
two greatest consecutive seasons
of pitching, factoring in ballpark effects, K/IB ratio, etc., all-time. But stats don't reveal the extent of Pedro's dominance. When he was on, professional hitters look like 5th graders swinging polo mallets. They flailed away, completely overmatched. Grown men were humiliated on national television. There were the legendary games to document his superpowers: 17Ks at Yankee stadium, the 1999 All-Star Game, and in one of the great performances in sports, an injured Pedro strutting to the mound and no-hit the fearsome Indians for 6 innings with a fastball in the high 80s in Game 5 of the ALDS. But what I'll treasure most are those days when I'd rush home to catch Pedro on ESPN and just shake my head in awe as he'll throw four nasty curveballs in a row to whiff A-Rod, followed by an assortment of low changeups and high heat to K Griffey. The man was an once-in-lifetime virtuoso with the baseball, the likes of which we'll probably never see again.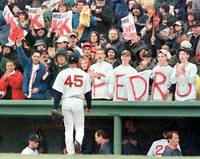 There were days and there were
Pedro
days
. Pedro starts. Pedro hasn't been Pedro this year, and it's likely he ever won't scrape those heights again. Or even come close. Just the same, I wish he stayed. Just like I wish they kept Nomar. Maybe I've got a sentimental streak, but I like to think baseball is a game where continuity matters. If not practically at least emotionally. You give your heart to a team like in no other sport (read Tom Verducci's SI Sportsmen of the Year cover story, if you don't believe me). But it's hard to maintain that bond with a team when the players you've come to love suit up in Royal blue the following year. I know, times change. The Sox won the Series, and Pedro got an offer he can't refuse. Can't blame him for taking the money, and I certainly can't blame Theo for being smart about not overpaying. I just wish, just once, a player will take a discount and stay. Just because.