Last Thursday afternoon wasn't the ideal time to go off-line. John Kerry was about to make the "speech of his life", my man Wes Clark was set to make a rousing appearance, baseball's trading deadline loomed, and
Harold and Kumar Go to White Castle
was about to open. It would've been a time to log some serious websurfing hours.
On second thought, last weekend might've been the best time to disconnect -- and that I did, dropping myself deep in the heart of red state Alaska to meet up with two of my closest friends, Mumon and WD, the latter of whom is now living happily in Anchorage.
Alaska itself is humbling. The vast expanse of mountains and trees, framed by water -- nature on a grand scale -- made me feel like a Lalliputian. The trip was fantastic, and it was less about the usual wildlife tour than getting a droplet of the local Alaskan experience: fishing, hiking, climbing, camping, drinking. However metrosexual you happen to be, it's best to summon the He-man (or She-ra) buried within you, because that encyclopedic knowledge of chianti and Verdi won't help you jack squat in skinning a rabbit. The folks I met lived life intensely in the outdoors but were totally unassuming; cool folks very much comfortable in their skin.
Favorite part of the trip: Catching a salmon, gutting it out with my bare hands, and finally eating freshly-cooked fish with the most deliciously fresh salmon roe sushi I've ever had, roe that came from the gut of a fish we had caught.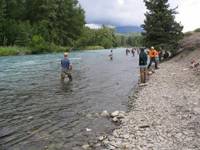 Reeling in a big red one (that's me in orange)

Also, Seward's Folly, like many smaller states, stands in stark contrast to California in its vocal political expression. As we traversed through residential Anchorage, seemingly every house has a sign hoisted on its lawn supporting a candidate in the hotly contested senate battle between Democratic governor
Tony Knowles
and incumbent Republican Lisa Murkurski. It's cool to see that people care.