So says
Olivier Assayas in the first account I've read of the Maggie Cheung/Olivier Assayas break-up. Gossip for nerds. (Via
GreenCine Daily
.)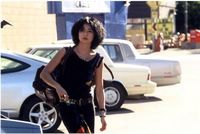 It's hard not to read
Clean
as some kind of valentine to Maggie, but I tend to value it for not only Assayas' incomparable mise-en-scene (the veritiginous shot following Maggie's scuttling down the airport escalator is pure awesomeness) but for another sharp take on the globalized experience. Last time out, Olivier explored the socio-economic dystopia of globalized info-business. In
Demonlover
, Assayas taps into globalization anxiety by exploring the dark world of corporate mercenaries and cybersex. It's both a mess (dude can't plot his way out of a zen rock garden) and absolutely essential. In the small-scale
Clean
, Olivier narrows his scope to Maggie's multi-national, multi-lingual junkie Emily, who traverses across continents with the ease of the real-life Maggie Cheung, though Olivier's kind enough to throw in a little
Alice Doesn't Live Here Anymore
vibe to de-glam it some. Can't disagree with those who've belittle the TV-movie-like scenario, Maggie's not entirely convincing performance, and/or especially her sucky songs (my biggest gripe is about her hair), but
Clean
does persuasively portray an increasingly common species, the multi-national for whom moving from Hong Kong to Paris is like moving from New York to Miami. And anyway even a TV-movie directed by Olivier Assayas, the most thrilling cinematic stylist in the world today, Wong Kar-wai, Scorsese, Tarantino, et al. included, is not to be missed.
Update
: I just happened upon this
Kent Jones review
of
Clean
in
Cinemascope
, which may be the best piece I've read on an Assayas film and Assayas' cinema, going into great detail Assayas' strategies of "catching up to life" and narrative elisions that give Assayas' cinema the sense of captured life in fleeting, truthful moments. Par for the course for Kent Jones, who pens the most persuasive raves in comtemporary criticism.